DEMAND FOR RESOURCES, such as agricultural land and energy, has increased substantially over the last decades. And this has catapulted increasing competition, often leading to unpredictable impacts for livelihoods and the environment.
For example, large hydropower projects may provide electricity, and be multi-purposed for irrigation and fisheries too, but there are also social and environmental implications like displacement of downstream communities and loss of aqua biodiversity.
In this context, the nexus approach has emerged as a useful concept to address the interrelated nature of the resource system.
The nexus approach is based on the understanding that all environmental systems are inherently intertwined. So, water, food and energy systems must be considered as a whole considering their mutual dependencies, linkages and interconnections. This nexus relationship means that an integrated approach to environmental management is important for sustainable solutions.
But there is more complexity — the interplay between several socio-economic, political and environmental conditions and the WEF nexus.
In the background paper following the Bonn 2011 Conference — The Water, Energy and Food Security Nexus: Solutions for the Green Economy — the nexus approach is succinctly defined as "an approach that integrates management and governance across sectors and scales."
What this means is — efforts to improve water, food and energy security in the context of development, urbanization, globalisation and climate change must also be integrated, not only between sectors but also between different actors — community members, different levels of national governance, private sector as well as regional and global initiators.
The background paper declares, "Conventional policy and decision making in 'silos' therefore needs to give way to an approach that reduces trade-offs and builds synergies across sectors – a nexus approach. Business as usual is no longer an option."
Proposed over a decade ago, the nexus approach has since gained wide-spread popularity, especially in the research community. The 'original' nexus framework has been built upon, modified and altered to fill in gaps and suit the needs of numerous international organisations, research institutes and independent research projects alike.
These projects have focused on a three or more interconnected environment and resource systems (water, energy, food, ecosystem, land, biodiversity etc) and scales (house-holds, transboundary, river basins etc) to conduct research through the nexus approach.
In 2012, the ICIMOD published a research paper titled 'Contribution of Himalayan Ecosystems to Water, Energy and Food Security in South Asia: A Nexus Approach', officially bringing the concept of nexus into the fold for the first time.
Earlier last month, IWMI and IFPRI officially launched the CGIAR research-for-development initiative NEXUS Gains: Realising Multiple Benefits across Water, Energy, Food and Ecosystems focused on three river basins in Asia and Africa, including the Indus-Ganges basin that covers Nepal — encouraging a re-evaluation of the nexus perspective in the context of Nepal.
There is no doubt that water, energy, food and ecosystems (WEFE) in Nepal are under immense pressure from climate change. Evidence is widespread.
From water scarcity in pocket areas and depleting groundwater to 2017 flash floods throughout the plains that caused a loss of about $57 million agricultural crops and the increasingly frequent uncertain monsoon that threatens food security, climate change is a known exacerbator for already existing environmental and socio-economic issues. While this existential threat looms over our collective heads, there are several other cracks in the system.
Nepal does poorly in implementing evidence-based policies and designating experts at key institutions. Regional and local governments struggle to make their communities climate-resilient. The working approach of WEFE related institutions is silo in nature making collaboration between sectors tedious at best, impossible at worst.
The federal system has many profound gaps and inefficiencies.
Efficient farming techniques and irrigation practices and systems are yet to be implemented in many parts of the country. Government, private, and development programs and solutions are less focused on holistic impact and are unilateral in their understanding of resources.
Development aspirations and environmental impact are pitted against each other and perceived as binary options. Cross-sectoral and accessible information and data needed to conduct relevant analysis of trade-offs between sectors is still lacking. These are just a few of the gaping holes.
To address some of these challenges directly, the NEXUS Gains initiative aims to "lead global nexus thinking and provide tools, guidelines, training and facilitation for analysis and research for development".
On the innovation and technology side of things, NEXUS Gains is working to develop and scale interactive tools, assessments, indexes, guidelines and toolboxes and various maps and models in order to enable a range of stakeholders to access, and incentivise evidence to support WEFE nexus solutions.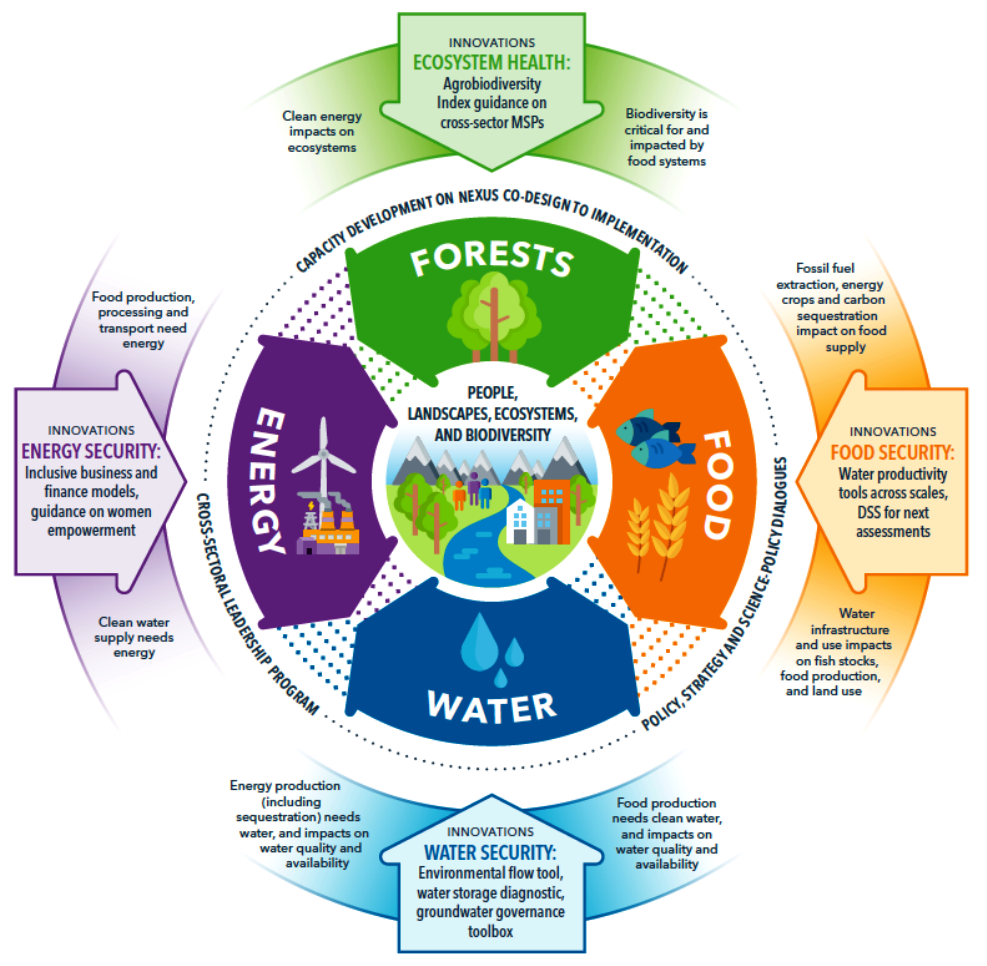 Additionally, the initiative aims to improve water productivity and integrated water storage management for improved food and nutrition security, co-develop scalable business and finance models for access to clean energy, co-build guidelines for cooperation and coordinations across different sectors (water, agriculture etc) and scales (local, federal, national) for effective governance and build community capacity through training, skill building, knowledge sharing, and mentorship opportunities.
Throughout all of this, it emphasises on nexus solutions that will benefit women, youth and people in marginalized communities who are at the front lines of climate change consequences.
Essentially, bringing together a network of societal stakeholders and decision makers — scientists, researchers, academics, government officials and bodies, the private sector, grass-roots community organizers, development organisations, policy-makers and analysts — to create a multi-level, multi-sectoral, transboundary environment for 'communication, coordination and cooperation', and enabling it through accessible information and data, integrated tools and methodologies and capacity building is the ultimate objective of the nexus approach.
Yet despite huge gains (at least on paper) that come with the nexus model, there is insufficient evidence that it will yield the promised benefits in Nepal. While developed extensively in theory, it is considered as an 'evolving concept that has remained largely in the conceptual realm'.
In the context of Nepal, the 'nexus approach is new and untested. And the benefits across WEFE will be realized only when the empowerment of local people, women and indigenous communities take precedence. For that to happen, a strong collaboration between communities, different sectors and government tiers is critical. So, the question — can 'nexus thinking' turn into 'nexus doing' — can only be answered with time.